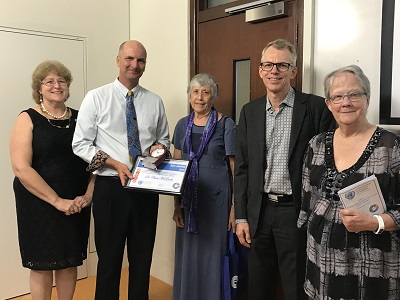 Environmental lawyer and University of Queensland lecturer Dr Chris McGrath has been announced as a 2018 Sustainable Development Goals Hero by the United Nations Association of Australia (UNAA), Queensland Division.
The SDG Hero Awards recognise individuals and organisations who epitomise themes of the United Nations' Sustainable Development Goals (SDGs).
Dr McGrath is an Adjunct Associate Professor at UQ, who yesterday won the prestigious award for his work representing the SDG's linked to prosperity, in a ceremony held yesterday at one of Dr McGrath's lectures.
The UQ lecturer has long advocated for environmental law reform and has worked to promote understanding of the way environmental law is applied in Australia.
He has spent many years educating and advocating for environmental causes and the Faculty of Science and the School of Earth and Environmental Science is delighted he has been recognised with this award.
More about Dr McGrath, his publications and his lectures can be found on the Environmental Law Australia website.
Media: Dominic Jarvis, dominic.jarvis@uq.edu.au, +61 413 334 924.