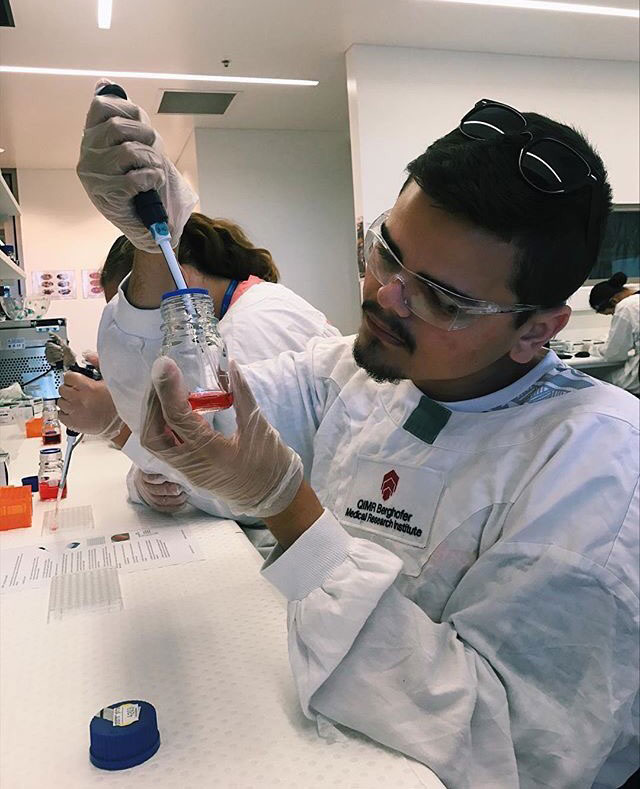 A future medical doctor with ambitions to give back to the community, has won the 2017 University of Queensland Indigenous Science Scholarship thanks to the continuing generosity of a UQ alumnus.
The Indigenous Science Scholarship was established to assist Indigenous students with the costs of tuition, study supplies, accommodation and basic living expenses while studying a science program at UQ.
The scholarship, which provides up to $20,000 per study year in financial support, is funded by a generous philanthropic contribution from Independent Marine Biochemistry Research Pty Ltd (IMBCR) with matching support from UQ's Faculty of Science.
The Director of IMBCR is Dr Geoff Nette (Bachelor of Science (Chemistry, Honours) '85, Doctor of Philosophy (Chemistry) '94.
Kyle Ryan, the latest recipient of the scholarship, is an undergraduate student studying a Bachelor of Biomedical Science with a focus on molecular biology and biochemistry.
"I have been accepted provisionally at UQ for the Doctor of Medicine Program in 2020, after I successfully complete my undergraduate studies," Kyle said. 
 "I would like to personally thank Dr Nette and the Faculty for supporting indigenous education," Kyle said.
"It means the world to someone who lives in a low-socio economic area and constantly has the struggles around funding on their mind.  
"Thank you so much for supporting students like me to chase their dreams, especially when financial considerations have deemed those dreams too unrealistic."
Last year UQ celebrated the first graduate of the philanthropically-funded Indigenous Science scholarship, when Taylah Gerloff, who was awarded her scholarship in 2014, graduated with a Bachelor of Science majoring in Marine Biology.
The Indigenous Science Scholarship was developed with significant input from the Quandamooka people, the traditional owners of Minjerribah (Stradbroke Island), and is part of the University's commitment to increasing the numbers of Indigenous students participating in tertiary education.
Both the IMBCR and the UQ Faculty of Science have pledged to continue their support for the Indigenous Science Scholarship in the near future.
Anyone wishing to support Science scholarships with philanthropic gifts so students like Kyle can achieve their dreams can contact UQ Science Faculty Philanthropy Manager Julia Keith at j.keith@@uq.edu.au, +61 7 3346 3143.
Media: Julie Baglot, j.baglot@uq.edu.au or 0411 162 577.