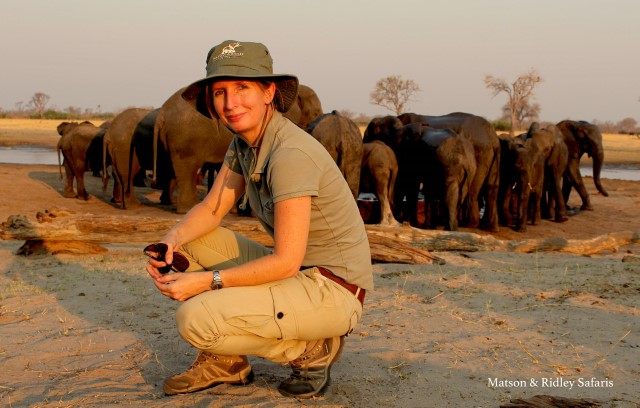 University of Queensland alumnus, conservationist, speaker, zoologist and author Dr Tammie Matson was recently leading a safari in Botswana, Africa, when a curious elephant bull walked up to her open Land Rover.
It leaned on the front of the bonnet with its tusks, causing the vehicle to lean forward.
"He then reached around with his trunk and began sensing my arm, within about 10cm," said Dr Matson, who graduated BSc Hons (Environmental Science) in 1999, and PhD (Zoology) in 2004.
"All my safari guests and I froze and there was complete silence in the vehicle as the bull remained with us.
"He wasn't aggressive in any way, just curious, but my heart skipped quite a few beats while we waited to see what he would do next.  
"Finally, after a couple of minutes, the bull moved off the vehicle.  To this day I don't know why the bull was so interested in my arm.
"It was a real privilege to be the subject of a wild elephant bull's curiosity that day, in a way that was completely peaceful. 
"It was an especially powerful moment for me as I had been fighting to raise awareness against the poaching of elephants in Africa for ivory for a couple of years at that stage, and I knew that so many of his kind were being persecuted by people across elephant range states."
Dr Matson is a co-founder of Let Elephants Be Elephants, a campaign in South-East Asia to raise awareness of the connection between poaching of elephants in Africa and the demand for ivory in Asia.
She also juggles motherhood with managing her ethical African safari business, Matson & Ridley Safaris, developing wildlife conservation projects in Africa, giving motivational speeches, and writing books, including Planet Elephant, Elephant Dance and Dry Water.
"I'm self-employed but my early scientific training at UQ, and in particular the guidance I received from my PhD supervisor, Professor Anne Goldizen, was fundamental in giving me the qualifications and experience needed to take my zoology career to a different level and then to branch out in different directions from there," she said.
"I would not have had the confidence or the credibility to go out and speak about conservation issues in public forums and media if not for the qualifications I earned at UQ through my PhD research.
"I loved doing my PhD field studies in Africa.  Who wouldn't love the chance to go and live in a national park in Namibia for a couple of years?"
Dr Matson and her husband, Andy Ridley, who both previously worked at World Wildlife Fund, and their children Solo and Shep, see conservation as their life's mission.
"The knowledge that we have a responsibility to ensure that our children can experience the wonder of the world's wildest havens is what motivates us to continue," she said.
"Today, Africa's most iconic species are at dire threat of extinction within just a few decades."