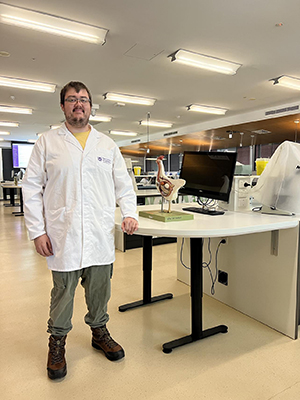 Frank Burley has always had a passion for animals and wildlife science, but due to his challenges with autism and epilepsy, couldn't see where his University of Queensland studies would take him.
Five years on from commencing his first-ever university studies at UQ's Gatton campus, he's continuing his undergraduate degree while thriving as a Lead Academic Tutor in Anatomy and Physiology.
"It's been such an incredible journey," Mr Burley said.
"I'd never performed well academically, and really didn't know if studying at a uni was really right for me, but I was surprised at how well UQ was able to support me in my studies.
"In my first two years I managed to make friends, volunteered and somehow managed to sustain a 6.25 GPA."
But, in the summer semester of 2019-2020, disaster struck.
While undertaking an industry placement course at Hidden Vale Wildlife Centre, Mr Burley's epileptic seizures returned in full force.
"When things go wrong you may feel like digging your heels in, but the flow of time waits for no one," Mr Burley said.
"You must forge ahead – you don't know what awaits.
"In January 2020 I was contacted by Dr Edward Narayan – my name had come up in conversations as I was a passionate student – and I was offered a position on his tutor team for Anatomy and Physiology.
"Regardless of my worsening condition, Dr Narayan was eager to have me onboard and work to accommodate my needs.
"I honestly couldn't believe it – who would want to hire an undergraduate like me?"
But Mr Burley's challenges didn't end there.
Throughout 2021 his condition got worse, forcing him to acquire the aid of the Disability Support Pension and National Disability Insurance Scheme.
"Throughout all of these trials and tribulations, Dr Narayan still encouraged me, accommodated me, and offered me opportunities for advancement within his team.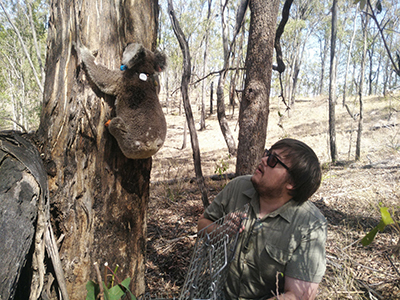 "Not once did these challenges and disruptions change his mind or opinion of me.
"So, with a sense of vigour brought on from my success within Dr Narayan's team, I found the courage to apply for, and was accepted to, the 2021-2022 Summer Research Program.
"Under the guidance of Associate Professor Karen Cheney I researched colour perception in coral reef fishes, and with researcher Ms Claire Moad investigated what's known as the Optomotor Reflex in fish.
"I even had a seizure right outside the St Lucia research aquarium and the team wholeheartedly supported me."
Mr Burley is proud to now be educating the next generation of animal scientists.
"I'm now an integral part of the Anatomy and Physiology content each semester, with roles that vary from leading practical labs, to creating and running tutorial content, to designing examination content," Mr Burley said.
"And I'm now going beyond the scope of Dr Narayan's courses, discussing potential research opportunities which I could be involved with.
"Without the support, acceptance, and accommodations from dedicated UQ researchers and academics like Dr Edward Narayan, and all those who have supervised my placements, I wouldn't be in the position I am in now.
"I encourage all students struggling with disability to reach out to their teachers and UQ's support services – they can help you pursue your dreams."
UQ's Student Advisers assist students with a disability, mental health or medical condition, illness, injury or exceptional circumstances - contact them via the my.UQ website.
Media: Faculty of Science Media, science.media@uq.edu.au, +61 438 162 687.