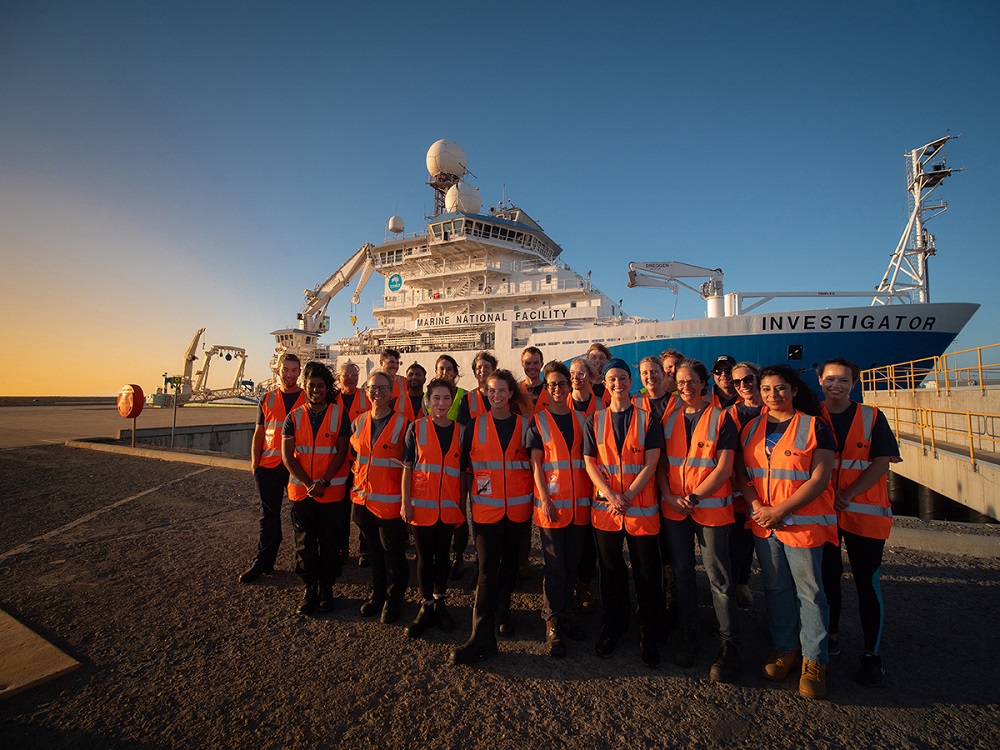 University of Queensland researchers are on a mission to see how climate change is affecting East Antarctica on CSIRO research vessel (RV) Investigator.
The Geoscience Australia-led scientific voyage will involve investigating the flow pathways of dense Antarctic 'bottom water', measuring its sensitivity to changes in climate and impact on seafloor ecosystems, helping predict how a warming climate will influence future ocean circulation around Antarctica.
Associate Professor in Oceanography, Dr Helen Bostock, who is accompanied by UQ PhD candidates Sienna Blanckensee, Molly Husdell and Vikki Lowe, is anxious about what they may find in Antarctica.
"This summer has had the lowest Antarctic sea ice extent since we started monitoring it with satellites," Dr Bostock said.
"2022 was the fifth warmest year on record and our oceans are warmer than they have ever been – taking up 90 per cent of the excess heat.
"This warming is dramatically influencing Antarctica, leading to melting of Antarctic ice sheets and reduced sea ice extent around the continent.
"Big climate shifts may feel a long way off, but these effects will have a significant impact on the rest of the planet, as ice sheet melting leads to rising sea level, and changes in sea ice extent impact the energy balance of Earth – we need to understand how this will impact the oceans and feedback into the climate."
To better understand these dramatic impacts, the voyage is heading to the most western part of Australia's Antarctic Territory an area called Cape Darnley – a poorly studied and remote region.
While much research is completed remotely via satellite, other information – such as how the oceans physics, chemistry, and biology is responding to these increases in meltwater – can only be achieved through the use of research ships, lowering instruments directly into the ocean.
Through this hands-on research, the team hopes to reveal answers to many pressing mysteries in oceanography – what will happen to Antarctica's 'bottom water'.
"The Cape Darnley region is one of just a couple of regions around Antarctica that produces very cold, salty, dense water, known as Antarctic bottom water.
"One of our main research aims is to sample this water mass and determine its pathways down canyons on the edge of the Antarctic continental shelf.
"We're also interested in how the Antarctic bottom water changes over time – over thousands of years – during time periods that were warmer than the pre-industrial.
"To study these past changes we'll collect sediment cores, which are like time capsules that accumulate sediment from the overlying water column over time.
"Changes in the sediment size, chemistry and the microfossils in the sediments tell us about the changes in the oceans close to Antarctica.
"This should help us understand and model the tipping points between different climate states and whether Antarctic bottom water is able to form in past or future climates."
While the team is there to understand the oceans, they also hope to see lots of Antarctic sea life, including seals, whales, penguins, other sea birds.
"This is a once in a lifetime experience – it really is a spectacular place, with incredible animal life, and we are privileged to have the opportunity to go."
"For one of the students coming along on the voyage, it will be the first time she has seen snow and ice in person, and others have never seen icebergs or sea ice – it's an incredible adventure."
The voyage includes more than 20 scientists and students from Geoscience Australia, The University of Queensland, University of Tasmania, the Australian National University, University of Canberra, CSIRO, and the University of Tokyo.
It is supported by the Australian Centre for Excellence in Antarctic Science and by a grant of sea time on RV Investigator from the Marine National Facility, which is operated by CSIRO, Australia's national science agency, on behalf of the nation. The post voyage science and PhD students at UQ are supported by a Australian Research Council Discovery Project.
Media: Faculty of Science Media, science.media@uq.edu.au, +61 438 162 687.
Cover image courtesy of CSIRO.
Follow the journey: The team will be bringing their research to life through photography, video, blogs and podcasts released through the ARC Australian Centre for Excellence in Antarctic Science and on Twitter via @CANYONS_voyage and #RVInvestigator.