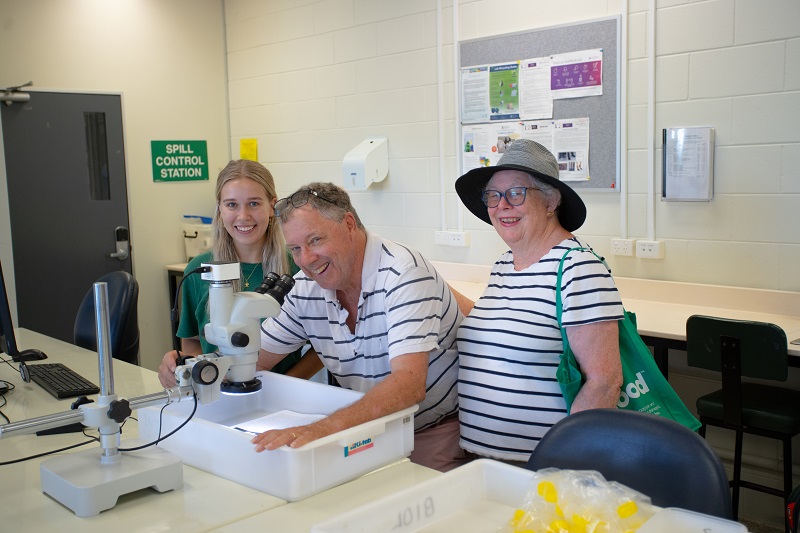 The Goodman Foundation's commitment to supporting marine research and education at The University of Queensland continues, with the recent signing of a new three-year gift agreement.
The foundation is an inaugural foundation partner of UQ's Centre for Marine Science (CMS), and the new gift agreement with UQ will continue its decade-long support of research in Moreton Bay and the development of student skills and research through the student-run UQ Marine Society.
Co-director at the Goodman Foundation, James Goodman, said the continuation of the partnership with UQ will facilitate the growth of many promising young scientists, and will allow researchers to improve their understanding and stewardship of the Moreton Bay and Southeast Queensland regions.
"We're very excited about the opportunity in front of us to holistically prepare bright young marine scientists to make a difference in their field, by investing in the development of their research, communication, and public speaking skills, beyond the classroom," Mr Goodman said.
"The partnership with UQ will also mean that researchers can continue adding to a growing knowledge-base of marine science through an increase in pure scientific research in Moreton Bay."
Professor Bernard Degnan from UQ's School of Biological Sciences said the benefits of the Goodman Foundations generosity can't be understated.
"Their funding has supported pioneering research into human impacts on Moreton Bay, which has led to a strategic commitment from UQ's Sustainable Urban Seascapes program in Moreton Bay to generate solutions for the Bay," Professor Degnan said.
"Their support of the Marine Society of UQ has also allowed a group of some 140 students to develop their communication and scientific skills through presentations at biodiversity roadshows, and the undertaking of important research that monitors ecosystem and biodiversity health of Moreton Bay."
The motivating factor driving the Foundation's continued support of marine science came from a simple question written on a blank piece of paper at the Foundation's beginning, Mr Goodman said.
"When we started our family foundation, we asked ourselves one simple question: 'Where do we start and what change can we possibly make?'" he said.
"After some navel gazing and some good advice, we came to a method for focusing our efforts and attention – by considering our view of the world's most pressing issue, the environment, in an area of our general interest, Moreton Bay.
"With that narrow focus, we felt we might be able to move the dial and make a significant difference – and here we are 10 years later, continuing to support marine science research and the future of the field.
"So, what started as an area of general interest has become a family passion."
Mr Goodman said the shared vision and values of the Foundation and UQ is what has made the partnership so successful.
"In UQ, we found an organisation with strong values, epitomised by an array of talented and dedicated people prioritising marine science ahead of themselves or their institution," he said.
"I believe that understanding the overall purpose and vision of your partner is the most important aspect of philanthropy, and with UQ we've found a partner with complementary skills and motivations.
"The Goodman Foundation has enjoyed the support of Professor Melissa Brown, Associate Professor Ian Tibbetts, Dr Jude Keyse, Tamara Homburg and Professor Bernie Degnan, who have all been instrumental in the collaboration."
Media: Faculty of Science, science.media@uq.edu.au; +61 7 3365 4043.