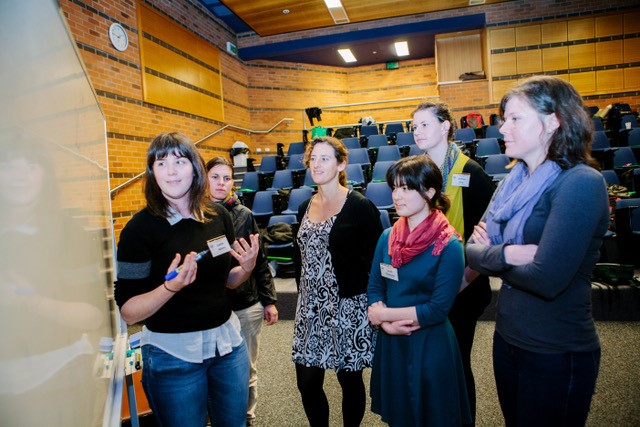 The University of Queensland's School of Mathematics and Physics has received a Bronze Pleiades Award for its continued commitment to inclusion, diversity and equity in the workplace.
The annual Pleiades Awards are an initiative of The Astronomical Society of Australia, recognising organisations in Australian astronomy who implement and promote equal opportunity and diversity.
Astrophysics researcher Professor Tamara Davis is delighted to see the School of Mathematics and Physics recognised for its outstanding work creating an equitable workplace.
"It's wonderful to be recognised," she said.
"We've been working hard to bridge the gap in gender equality in physics and mathematics, using a scientific approach where we can.
"We've not only tackled the basics – holding women in STEM events, making hiring committees aware of implicit bias, offering flexible work and study options, showcasing incredible female physicists, etcetera – but are using statistics and surveys to monitor the demographics of our department, and then acting on that data."
Data revealed that awareness of unconscious biases, and issues surrounding inclusion in the School, are now at an all-time high.
"The statistics made it clear that there were unexpected biases we simply hadn't been aware of," Professor Davis said.
"For example, for a period of more than three years, only four per cent of our colloquia – prestigious invited talks where researchers deliver their latest discoveries – had been delivered by women.
"There was a collective gasp around the table of our equity and diversity committee when this first came to light, we took immediate action to invite more female speakers."
Professor Davis believes that changing something as simple as having more female speakers at events can make a significant difference.
"Having more female role models visible in front of our students can result in positive changes, encouraging more females to pursue a career in science, closing the gender gap in senior research positions and empowering more females to present at conferences or seminars to advance their careers," she said.
While Professor Davis is proud of the School's achievements to date, she believes there is still a long way to go to achieving a truly equitable community.
"Our ultimate goal is to work towards achieving the accolade of the Gold Pleiades Award, however there are a number of areas we need to improve on to ensure that all staff and students – regardless of gender, age, disability or cultural background – are empowered and encouraged to excel," she said.
"Astrophysics Australia-wide has been a trailblazer in this area, having a positive ripple effect in the wider physics and mathematics community and workplaces.
"The Pleiades Award is specifically for astrophysics, but we're proud to see it impacting the physics community more widely.
"We're looking forward to building on this success, making a more inclusive workplace and learning environment for all."
Media: Professor Tamara Davis, tamarad@physics.uq.edu.au, +61 432 526 989; Dominic Jarvis, dominic.jarvis@uq.edu.au, +61 413 334 924.