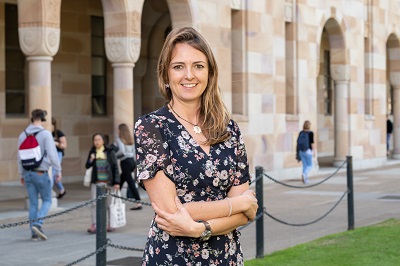 A University of Queensland researcher has been nominated for a $100,000 prize for her work on conservation projects to protect the world's coral reefs.
Dr Emma Kennedy from UQ's Remote Sensing Research Centre has been nominated for the international UCLA Pritzker Environmental Genius Award, recognising and supporting young champions for the environment.
"I was surprised and am so excited to be nominated," she said.
"The Award recognises environmentalists from all fields – communicators to scientists, activists to artists – anyone fighting hard to make a positive difference for the planet."
Through mapping and monitoring coral reefs around the world, Dr Kennedy and her team's research aims to improve global understanding of coral ecosystems, so that they can be better protected.
Mapping all the world's reefs in unprecedented detail, the team are making a freely-available atlas of coral reefs that will underpin future science and management.
In addition to the mapping work, as part of UQ's 50 Reefs Global Coral Reef Conservation Initiative, Dr Kennedy's research is driving improved reef protection policies, identifying and prioritising protection efforts on coral reefs that are least vulnerable to climate change, as well as efforts that have the greatest capacity to repopulate reefs over time.
"I'm passionate about using scientific discovery to empower environmental and industry leaders, government stakeholders and communities," she said.
"I want to help deliver tools and information they need to make more informed decisions and take vital action to improve the protection of our reefs," she said.
Dr Kennedy has also been mentoring and supporting young aspiring scientists, and this year was selected as one of 100 female science leaders to take part in an all-female Antarctic expedition.
The Homeward Bound expedition helps raise the profile of the climate emergency and the need for more diverse leadership to facilitate better outcomes for the planet.
A passionate advocate for reef conservation, Dr Kennedy recognises that science in isolation can't save reefs.
"We need people power to influence change, so in addition to traditional scientific methods I also incorporate the use of underwater photography and storytelling in my research," she said.
"These approaches can help engage decision-makers and empower communities to more effectively protect our precious coral reefs."
The winner of the annual Pritzker Environmental Genius Award will receive financial support of $100,000 to take their idea to the next level, and should Dr Kennedy win, she plans to use the funds to advocate for greater reef protection.
"My vision is to use these stunning ecosystems to unite communities, government and industry worldwide, prompting action on climate change." she said.
The award winner will be announced in Los Angeles on 14 November.
Dr Kennedy's participation in the Homeward Bound program was supported by UQ's Faculty of Science and the Global Change Institute, as well as Athena SWAN.
Media: Dr Emma Kennedy, e.kennedy1@uq.edu.au, +61 403 825 679; Dominic Jarvis, dominic.jarvis@uq.edu.au, +61 413 334 924.