Growing renewable generation, the rise of distributed energy systems, and transformative consumer technologies will all lead to a future grid that operates very differently to the present.
But how exactly will it be different? How do our operational practices need to change and adapt? What do we need to do now, to ensure this transformation happens smoothly?
Join us at BrisScience this month as Dr Jenny Riesz illuminates the practical challenges that will arise as our grid transforms, and the work underway to address those challenges.
**Please note we are at a new venue this month**
| | |
| --- | --- |
| Time | 6:30pm to 7:30pm |
| Venue | Auditorium 1 , State Library of Queensland, South Brisbane |
| Arrangements | Doors open at 6:00pm |
| Refreshments | Light refreshments will be provided following the presentation |
| Cost | This is a free event.  |
Watch the recording
Recording of "Transforming Australia's electricity system" lecture (YouTube, 46m:40s)
Meet the presenter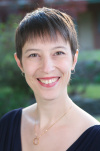 Dr Jenny Riesz is a Principal at the Australian Energy Market Operator (AEMO), the organisation responsible for operating Australia's major electricity grids.  Prior to working at AEMO, Jenny was a Research Associate at the University of New South Wales, conducting research on 100% renewable power systems.  She previously worked at ROAM Consulting, working with a wide range of electricity industry participants, modelling electricity systems and renewable energy.  Her PhD was in physics, at the University of Queensland.
About BrisScience
BrisScience is a monthly lecture series that brings science out of the labs and to the people, making it accessible to all – from scientists, to scientists-at-heart.
Run by The University of Queensland, BrisScience has been delivering engaging lectures on diverse topics from local and international scientists for over a decade.
BrisScience speakers are leaders in their given fields and deliver dynamic presentations based on cutting edge research.
The University of Queensland has been running BrisScience since 2005, bringing the best and brightest scientific minds to the people of Brisbane – from early career researchers to Nobel Laureates!
| | |
| --- | --- |
| Time | 6:30pm to 8pm (light refreshments 8-8:30pm) |
| Venue | The Edge, State Library of Queensland, Stanley Place, South Bank |
| Cost | Free |
Subscribe
Sign up to be on our mailing list and be the first to know the latest BrisScience news, events and announcements!
The mailing list is used only to advertise upcoming BrisScience talks. If at any time you decide that you no longer wish to receive the emails, you can unsubscribe from the bottom of your latest email.
Social media