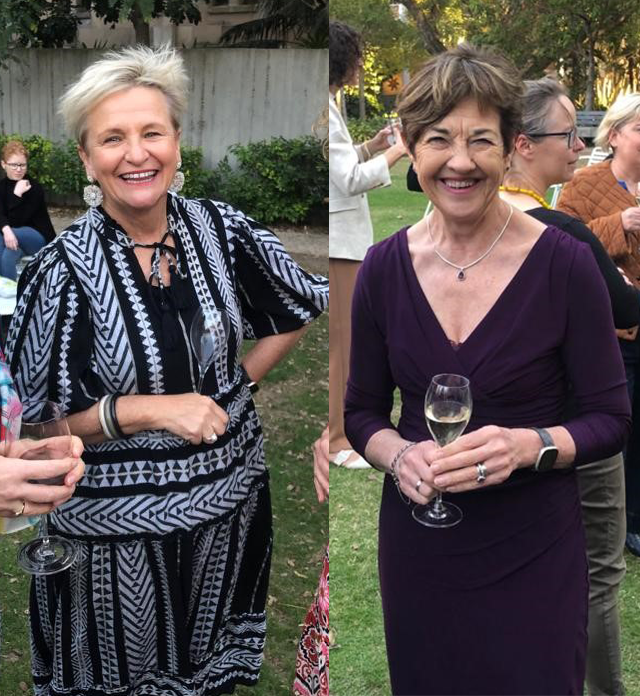 The University of Queensland recently bid farewell to the duo behind the groundbreaking Career Progression for Women program, Ms Jennifer Witheriff and Professor Polly Parker.
An event, recently held at UQ's St Lucia campus, celebrated the extraordinary impact Jen and Polly have had on gender equality and leadership development within academia over the past 12 years.
The program provides academic women with the opportunity for both personal and professional growth, and helps participants clarify and pursue their goals within the academic environment.
Dr Marina Fortes from UQ's School of Chemistry and Molecular Biosciences, is an alumna of the program and offered her insights into its significance.
"Jen and Polly were the pioneers in teaching women of UQ leadership practices," Dr Fortes said.
"Their leadership courses help to smash the invisible glass ceiling for women in academia, and Jen and Polly, and the large 'sisterhood' that they created, supports women to transition to more senior roles by improving their leadership skills."
Dr Fortes emphasised that the program was not a simple formula for promotion, but rather a transformative journey of self-discovery and strategic thinking.
"'Learn to say no' is an important element of the course, so we don't get flooded with lots of little, mundane tasks that prevent more important work being done," Dr Fortes said.
"Jen and Polly's work has had a profound impact on UQ and the Faculty of Science, inspiring many women to advance their careers.
"The increase in the number of level D and E women in the past decade is a direct result of Jen and Polly's work, and gender equality is better at UQ because of them."
Former program graduates thanking the duo at the recent farewell and gratitude celebration
For Dr Fortes, their teachings encouraged a valuable shift in perspective.
"They taught me that leadership is a practice and not a person; by clarifying this idea, I finally understood that with practice I can exert leadership," she said.
"And the best part of the program was the sisterhood it facilitated.
"Jen and Polly, through their course, have connected all women across UQ – it helps to be 'One UQ', because I know lots of like-minded women who are also progressing their careers at UQ, facing similar challenges, or sharing good practices."
Professor Kate O'Brien from UQ's School of Chemical Engineering another alumna from the course, and applauded Jen and Polly's courage as leaders of the course.
"A lot of people at the farewell event mentioned how uncomfortable the course was at times, with some really challenging topics thrown at us, so what always amazed me was the courage and conviction Jen and Polly had to run the course," Professor O'Brien said.
"There were lots of safe options that they could have chosen when it came to making the program easier on participants, but they didn't take it because they knew what was best for us.
"It must have been so difficult for them to stand up and do this year in year out, so I'm really grateful for the courage they showed for making this course possible."
All current and former participants of the course offer a heartfelt thank you to Jen and Polly for their outstanding leadership over the years.
For more information, head to the Career Progression for Women program page.