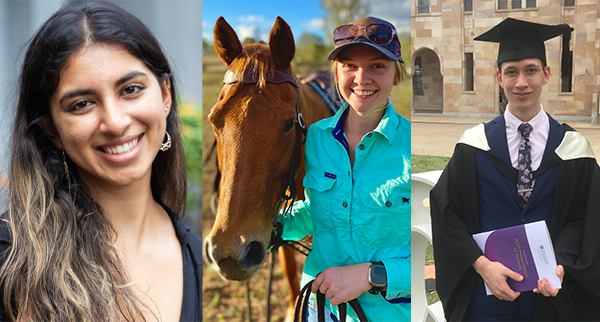 So much more than just financial aid, scholarships have time and time again shaped the life trajectories of individuals who were meant for bigger things.  
They are about opening doors for students held back by financial barriers and the hesitation that comes with them. Scholarships break down those barriers, putting higher education and its many benefits within reach.  
Alumni often say that one of the best things about university is its ability to expand perspective, not just through new knowledge, but through new ways of thinking and seeing the world. This comes from exposure to a wide range of people and experiences.  
Scholarships foster an inclusive and diverse learning environment where all students with potential and desire can flourish. 
2023 Science Leaders Scholarship recipient, Chelsey Purcell, is a second year Bachelor of Veterinary Technology student. Growing up on a farm, animals had been a passion since she was a little girl, and she dreams today of pursuing a career in large animal medicine.   
"The recent drought, flood and COVID-19 put a huge burden on my parents and their income to keep supporting me in my studies, so I had to try and support myself," Chelsey said.  
"[The scholarship] helped me continue my degree by covering my costs for living on halls and buying equipment I needed – it was a great lift off my shoulders." 
Financial relief from scholarships can significantly reduce the financial and emotional burden on students and their families. Higher education expenses go well beyond tuition fees and include the cost of textbooks, accommodation, and living essentials. And that's just to study, never mind taking full advantage of university life.  
Scholarships alleviate financial pressures, allowing students to focus on their learning and educational experience without the worry of making ends meet.  
The knowledge that others believe in you is a potent motivator, encouraging scholarship recipients to strive for academic excellence. Having their ability and potential recognised spurs students to push their limits, inside and outside the classroom.  
Habits of discipline, diligence, and drive cultivated through scholarship programs set students up for successful careers and to be contributing members of their communities and society more broadly.  Scholarship recipients often 'give back' through volunteering, something that makes them stand out in a competitive job market, along with their demonstrated commitment to academic achievement.  
The cost of living has shown marked increases between March 2000 to March 2022* and it is little wonder scholarships are welcomed by Faculty of Science students who now number almost 9,000.  Still, the science scholarship numbers are not as high as they might be, with 30 scholarships awarded and 50 recipients in 2022.  That figure represents less than 1% of the Science student population.  Happily, thanks to a growing number of generous donors, more help is on the way in 2023. 
Christian Kennedy exemplifies the relief that receiving a Science Leaders Scholarship (aka Future Scientist Scholarship) can bring.  
"It has not only allowed me to concentrate on my studies during my Bachelor of Mathematics (Honours) last year, but it also supported me in the months before starting my PhD at UQ," Christian said.  
"With support for my living expenses, I was able to spend a good portion of this time furthering my knowledge in preparation for my PhD.  
"Being a recipient of the scholarship also gave me confidence because, when things are challenging or I feel like an impostor in my research, I remember that people believed in me and decided to give me this wonderful opportunity.  
"I would like to thank the generous community that supports this scholarship, as it truly does make a difference for students in financial hardship."  
While undertaking his undergraduate studies, Christian paid it forward by volunteering his time to help other students at The Queensland Mathematics Summer School (QMSS). 
The impact of scholarships isn't confined to grades and academic achievement. At times, it comes in the form of passion ignited, as is the case with Sana Saleem.   
Sana is a bright Bachelor of Science/Bachelor of Arts student, who is honoured to have received the Linnett Family Mathematics Scholarship and, with it, has discovered a passion for mathematics. The scholarship is dedicated to fostering emerging talent in the subject.  
"I have always appreciated the beauty of mathematics and my past three years of study have confirmed my view that it is a highly beneficial and widely applicable degree," Sana said. 
It is said that education is the key to a prosperous and healthy society. The stories of scholarship recipients radiate hope. Not only do awards pave the way for these students to succeed and contribute to a better world, but they also inspire others to pursue their dreams and break cycles of disadvantage. In the end, that kind of empowerment makes us all stronger, fostering a culture of continuous progress and giving back.  
* Source: ABS, CPI, Australia, March 2022 (Canberra: ABS, 2022).