A project borne from The University of Queensland's Agri-Food Innovation Alliance (AFIA) Industry Kickstarter grant program could prevent 30,000 tonnes of plastic from entering the ocean per year.
The first round project, led by UQ's Dr Vassilis Kontogiorgos, and a collaborative effort with Uuvipak, aims to lower the use of single-use plastics by improving the functional properties of citrus peels for use as a bioplastic material.
Dr Kontogiorgos said the project specifically looked for ways of deodorising raw material and removing qualities that make it susceptible to water damage.
"We were able to successfully deodorise and remove water-soluble compounds in citrus peels while maintaining the mechanical properties necessary for good quality bioplastic products," he said.
"This is a significant finding, as most of the food waste sourced for this sort of project often has a very strong odour, meaning its application is limited.
"This has the potential to transform the single-use plastic industry, which contributes an enormous amount of waste to our landfills each year, globally.
"Partnering with Uuvipak has been a wonderful experience and is a great example of AFIA's Kickstarter program at work, partnering our leading researchers at UQ with small to medium size organisations with big, innovative ideas."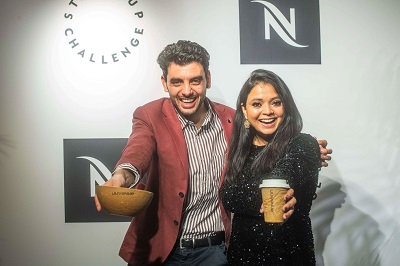 Co-founder and co-CEO of Uuvipak, Dr Shafali Gupta said the collaborative effort brings them one step closer to realising their vision of mass production of bioplastics.
"Our aim is to provide sustainable alternatives for single-use plastics by upcycling food waste," Dr Gupta said.
"With a better understanding of how to deodorise this food waste, we can find smarter and cleaner ways to use it for products such as bowls, cups, forks, spoons.
"This project has massive potential if we are able to convert the research we carried out with UQ to an industrial scale, and that's where we're looking next.
"By capturing just 20 per cent of the Australian market with one of our products, we will be able to take the equivalent of 30,000 cars off the road per year.
"It would offset 30,000 tonnes of plastic which enters the ocean every year."
AFIA is accepting expressions of interest for the second round of its Industry Kickstarter grant program.
Open to small to medium enterprises throughout southeast Queensland, these grants help partner academics with industry to conduct collaborative research with real impact, that will potentially leverage further external funding.
UQ AFIA Director Professor Melissa Fitzgerald said significant funding is on offer this year, as UQ aims to broaden its reach within the industry.
"It's really encouraging to see some very interesting ideas already coming through for the second round of funding," Professor Fitzgerald said.
"This year, we're hoping to see more agricultural technology, supply chain, food manufacturing and processing SME organisations jump on board."
Professor Fitzgerald said the first funding round in 2022 was highly successful.
"The collaborative bioplastics project with Uuvipak bioplastics will have a real impact once it's out in the world.
"This is just one of the projects we're really excited about that has the potential to make a real, tangible difference."
For more information on the program and deadlines, or to download forms, head to the AFIA website.
Expressions of interest for round two of this program close Wednesday 1 February.
The University of Queensland acknowledges the $2.5 million contribution made by the Australian Government Department of Education, Skills and Employment under the Strategic University Reform Fund (SURF) to support the activities conducted by the UQ Agri-Food Innovation Alliance.
Media: Professor Melissa Fitzgerald, m.fitzgerald2@uq.edu.au, +61 (0)417 279 760, Dr Shafali Gupta (Uuvipak), shafali@uuvipak.com, +61 (0)422 213 579; Faculty of Science Media, science.media@uq.edu.au, +61 (0)438 162 687.