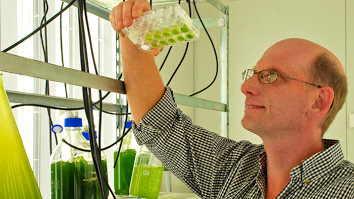 Better medicines, food, fertiliser and electronics are on the way, with new Australian Government funding to bolster marine bioproduct innovation.
Australia's Marine Bioproducts Cooperative Research Centre (MB-CRC), which includes University of Queensland researchers, has received $59 million, to help transform Australia's emerging marine bioproducts sector into a sustainable, clean and globally-competitive industry.
UQ Professor Peer Schenk said the funding will help lay the groundwork for Australia's coming underwater industrial revolution.
"Australia boasts the planet's third largest marine area, but has an under-developed marine bioproducts industry compared the other parts of the world – it's time for that to change," Professor Schenk said.
"Marine bioproducts – products derived from marine organisms like microalgae, seaweeds, marine bacteria and animals – can take the form of nutraceuticals, food products, environmentally-friendly and degradable building and electronic products, and effective fertilisers.
"These products have enormous potential to address some of the biggest issues of our time, including food security, environmental degradation and human health.
"We hope to have the first food products from Australian microalgae on the market this year."
Founder and Director of the Flinders University Centre for Marine Bioproducts Development (CMBD), Professor Wei Zhang, said the CRC – now with $270 million in backing from universities, government and industry – will transform Australian industry.
"We've built a world-leading platform to develop innovative, next-generation marine bioproducts," Professor Zhang said.
"It's a single point of contact, where research meets industry and where industry can connect with markets all around the globe.
"Most of our products will be for export, helping the nation shift into more sustainable, long-term national industries, while at the same time, replenishing the ecological resources on which we all rely.
"Industry has backed us in a big way – with in-kind and financial support of over $100 million – so, with government support, we're ready to lead the world in marine bioproduct innovation."
UQ is among a significant number of research and industry partners involved in the MC-CRC, originally founded by Professor Zhang, Professor Schenk, Deakin University's Professor Colin Barrow and the CSIRO's Michael Collins.
Other UQ researchers involved include Professor Rob Capon, leader of the Australian Marine Bioproducts program and Professor Ben Hankamer, co-lead of the Innovative Bioprocessing Technologies program, both from the Institute for Molecular Bioscience.
Media: Professor Peer Schenk, p.schenk@uq.edu.au, +61 468 357 337; Professor Wei Zhang, wei.zhang@flinders.edu.au; +61 8 7221 8557; Dominic Jarvis, dominic.jarvis@uq.edu.au, +61 413 334 924.