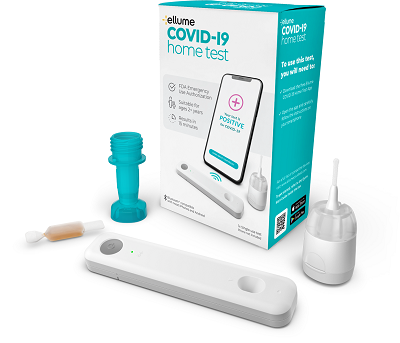 State-of-the-art University of Queensland research facilities have been critical to the development of a 20-minute, smartphone-linked, home COVID-19 diagnostic test now available in the US.
The Ellume COVID-19 Home Test, developed by UQ alumnus Dr Sean Parsons' biotechnology start-up Ellume, employed UQ's Australian Biomolecular Interaction Facility (ABIF) and Protein Expression Facility (PEF) to develop the technology.
UQ's Associate Professor Bryan Fry said that he and his ABIF colleagues were proud to have helped develop the community-transmission-curbing tech.
"Ellume needed to precisely measure chemical reactions to validate that their kit was indeed able to efficiently and reproducibly detect the virus," Dr Fry said.
"And at UQ, we have the only machine capable of conducting these particular experiments – known as kinetic binding experiments – in the southern hemisphere, it's one of only a few in the world.
"It's the Octet HTX – the Rolls Royce of biomolecular interaction technology.
"It can screen thousands of samples a day for applications like vaccine development, drug design, medical diagnostics such as antibody or hormone level measurements, detection of toxins in agricultural products such as wheat stores, and can monitor for environmental pollutants.
"Thus, Ellume had unique access to what they needed to ascertain the efficacy of their innovative kit technology.
"UQ's Australian Biomolecular Interaction Facility (ABIF) can help replace laborious, error prone, and expensive assay techniques, such as ELISA (enzyme-linked immunosorbent assay) – routinely used to measure antibody titres after vaccination.
"The high throughput and fully automated workflow replace expensive laboratory technicians, as our robot is able to work 24 hours a day, non-stop while generating much more accurate data."
Professor Linda Hwee-Lin Lua, Director of UQ's PEF, said they are perfectly placed to rapidly assist Ellume.
"We have more than 15 years of experience in producing recombinant proteins, aiding in the advancement of breakthroughs in therapeutics and vaccines," Professor Lua said.
"By delivering highly pure and functional SARS-CoV-2 recombinant proteins at the outset of the pandemic, PEF was able to accelerate Ellume's development and verification of their range of COVID-19 diagnostic tests.
"PEF's unique platform enables us to tailor-make and scale production rapidly, expediting the kit's development timeframe without compromise.
"We're proud to be supporting a project enabling rapid and reliable testing, helping reduce the spread of the virus and paving the way to a COVID-19-free future."
The Australian Biomolecular Interaction Facility (ABIF) was funded through a $1 million Australian Research Council Linkage Infrastructure, Equipment and Facilities (LIEF) grant, with $1 million contributing funding from UQ, Griffith University, Queensland University of Technology, James Cook University, and the University of Sunshine Coast.
Media: Associate Professor Bryan Fry, bgfry@uq.edu.au, +61 400 193 182; Professor Linda Lua, l.lua@uq.edu.au, +61 7 3346 3979; Dominic Jarvis, dominic.jarvis@uq.edu.au, +61 413 334 924.