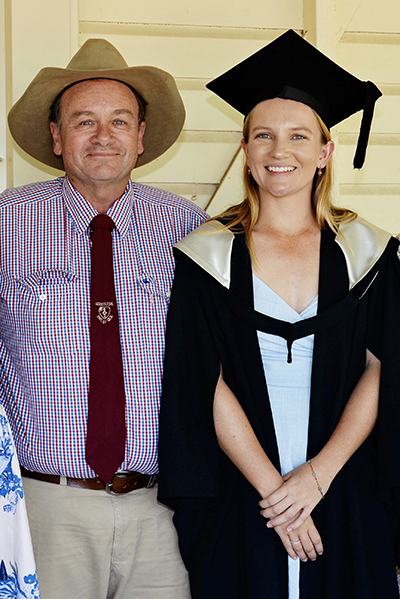 In 1977, Agricultural Science student Tom Stockwell was awarded the Bell Memorial Medal for his research into cobalt supplementation.
Fast forward over 40 years and his daughter, Peta Stockwell is upholding the family's success, as The University of Queensland's newest Bell Memorial Medal recipient.
"We're both very proud to be recipients of the medal, and it's a great compliment to be told I'm following in dad's footsteps," said Ms Stockwell.
The Bell Memorial Medal, which was founded in 1947, is presented annually to acknowledge high calibre agricultural research within the University's undergraduate cohort. The award is in memory and recognition of the significant contribution to Agriculture made by Arthur F. Bell.
Ms Stockwell completed her honours thesis after a year of research exploring the impact of phosphorus supplement in cattle before applying for the award.
"I felt that the opportunity to throw my hat in the ring for an award as well-regarded as the Bell Memorial Award was not to be missed."
As a student of the 70s, Mr Stockwell recalls his award-winning report being printed on a typewriter and the graphs hand drawn, while his daughter's recent work prepared "on a laptop with all of today's graphics and word-processing software, presented via the internet from our remote cattle property in the Northern Territory."
He also fondly remembers the data collections, lively discussions and rural tours with the close-knit group of agricultural peers, or "Aggies", who still reconnect every five years.
While the technology may have significantly changed in recent decades, the community and impact of UQ Agriculture students continues to thrive.
"I have derived a lot of value from the strong history of Ag Science and the world-class agricultural scientists at UQ," said Ms Stockwell.
"I was lucky to begin my degree with an appreciation for its history from my father, but the links between UQ Ag Scientists run much further.
"The agricultural sector is full of UQ alumni who are role models for current students; they're delivering lectures, speaking at conferences, and leading the industry."
Growing up on her family's cattle station south of Katherine, Ms Stockwell's love for agriculture began early, but her passion and appreciation for the industry continued to grow during her four years at UQ.
"To learn that the people I look up to had won the Bell Memorial Medal when they completed their undergrad has given me a real sense of community and history, as well as demonstrating the incredible potential UQ Ag Science graduates have.
"There are few awards with a list of previous winners as impressive as the Bell Medal, and to have my name now included in that list is very humbling and gives me a sense of optimism for the future.
"Furthermore, the number of awards in the School of Agriculture and Food Sciences funded by a bequest from a past Ag Science student is quite extraordinary, and is a testament to the value past students hold in the degree, and the sense of community felt by UQ's Ag Scientists."
Having now graduated, Ms Stockwell is looking forward to entering the professional workforce and putting her knowledge to practice.
"I hope to have a positive impact on the production systems, land resources and rural communities of northern Australia, utilising the skills and interests I've been able to cultivate throughout my studies."
Previous Bell Memorial Medal winners may give Ms Stockwell a feeling of "big shoes to fill", but her talent throughout her studies shows she is firmly on her way to success.