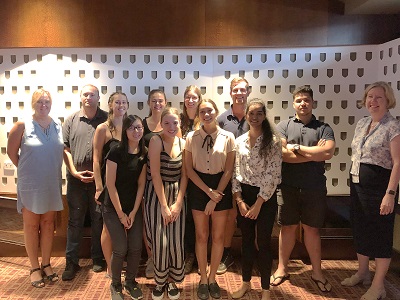 A new industry placement course has seen half of its very first cohort complete the program with ongoing employment prospects.
Science Industry Placement (SCIE3050) was introduced over the 2018 summer semester to provide an opportunity for generalist science students to complete work integrated learning, gaining hands-on industry skills and knowledge.
Course coordinator Professor Melissa Fitzgerald from the School of Agriculture and Food Sciences said the elective course is a great opportunity for students to enhance their employability before graduating.
"Gaining industry experience while studying can put graduates a step above the rest when it comes time to apply for work," Professor Fitzgerald said.
"This program demonstrates that, as a number of students from SCIE3050 have acquired a position with the organisation where they completed their placement or an affiliated corporation."
The students were tasked with securing a work placement relevant to their field of study and professional interests, which presented a further opportunity to hone their professional networking and communication skills.
They were then required to complete 120 hours work over the summer semester and deliver a final presentation reflecting on their experience in a 'three-minute thesis'-style showcase.
"The freedom of choice in these placements allowed for students to explore new territories," said Professor Fitzgerald.
"Some students found positions involving lab work and hands on research, while others took on roles in science communication, producing articles for online education platforms or assisting with event management."
The cohort comprised Bachelor of Science students majoring in geographical science, food science, physics, marine biology and zoology, as well students from the Bachelor of Biomedical.
"Each of the more specific bachelor programs within the Faculty of Science, such as the Bachelor of Veterinary Technology and Environmental Management include compulsory placement as part of the students' coursework," said Professor Fitzgerald.
"Despite programs like the Bachelor of Science accounting for the majority of science students at The University of Queensland, the curriculum just doesn't have space available for additional core components."
It was this consideration that prompted the subject to be introduced as an elective over the summer and winter semesters.
Marine Science student Timothy Perrin completed his placement at the CSIRO Bribie Island Research Centre focusing on technological developments for the Australian aquaculture industry.
As a result of the placement, Timothy has received a three-year contract with CSIRO working on the development of the prawn aquaculture industry both within Australia and abroad. 
"Taking part in SCIE3050 gave me a new practical insight into aquaculture and allowed me to establish invaluable contacts within the industry," Mr Perrin said.
"By getting hands-on experience while still studying at UQ allowed me to jump-start my career and secure employment before graduation.
"Having the program structured over the summer break, it was far less invasive on my studies than trying to complete an internship during the semester which can be particularly challenging for science students.
"I would definitely encourage students to consider taking part in the SCIE3050 program if they're looking to gain some industry experience and establish a network within their respective area of study."
SCIE3050 will be available over the 2019 winter semester. View the course outline for details.