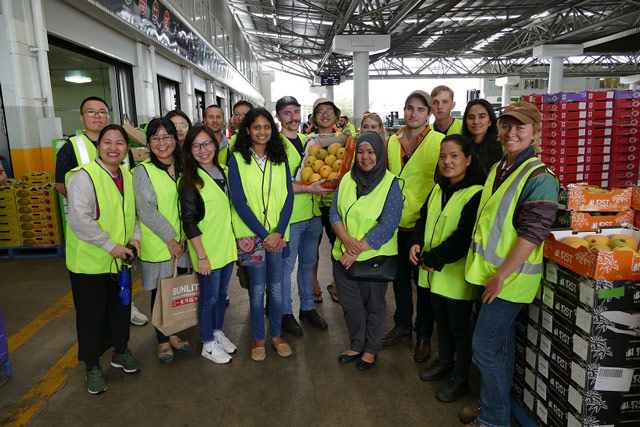 Horticulture students are learning how Australian produce makes it to market, through a hands-on collaboration with Brisbane Markets Limited.
The 17 University of Queensland students recently braved the early morning rush of forklifts and lively produce traders, visiting the Brisbane Produce Market at Rocklea, one of six Australian central markets in Australia.
Dr Robyn Cave from UQ's School of Agriculture and Food Sciences, said that this farm-to-table experience was invaluable for students' understanding of Australia's horticultural industry.
"Our students were fortunate enough to be introduced to the people behind the sale of almost 600,000 tonnes of fresh produce each year, worth more than $1.5 billion," she said.
"They witnessed packaging and cool room logistics, the buying process, and stopped to speak with wholesalers on their fact-finding visit."
Dr Cave, along with fellow UQ lecturer in horticulture Professor Daryl Joyce, were aided on the tour by Brisbane Markets' Communications Executive, Vanessa Kennedy, along with a number of Brisbane Produce Market wholesalers who spoke with the group.
"We really enjoyed hosting these students, giving them a chance to see the full picture," Ms Kennedy said.
"In fact, one student, Andre Rapisarda, quickly spotted melons from his Burdekin family farm in North Queensland, and the familiar faces of wholesalers who market his brand.
"There are more than 7,000 growers send to the Brisbane Markets, including the Rapisarda family."
The students also learned a little about the history and diversity of Brisbane's most prominent marketplace.
"We had a chance to tour the Arch Martin Brisbane Markets History Room, learning about the type of packaging and transportation used in Brisbane's 150 year fresh produce wholesaling industry," Dr Cave said.
"And finally, we concluded the trip with a visit to the Brisbane Flower Market, where students were bedazzled by the range, beauty and quality of floriculture products.
"It was a hive of activity from florists and members of the public, sourcing blossoms from Australia and around the world.
"Opportunities like this are vital for our students to see how they best fit in, and how they can best contribute to, Australia's modern agricultural sector.
Beyond this program, UQ, in partnership with Queensland's Department of Agriculture and Fisheries, works closely with the Brisbane Markets, and in particular, its wholesaler member organisation, Brismark, offering post-harvest courses to industry.
Media: Prof Daryl Joyce, d.joyce@uq.edu.au, +61 428 867 804; Dr Robyn Cave, r.cave@uq.edu.au, +61 7 5460 1240; Vanessa Kennedy, vkennedy@brisbanemarkets.com.au, +61 3915 4200; Dominic Jarvis, dominic.jarvis@uq.edu.au, +61 413 334 924.