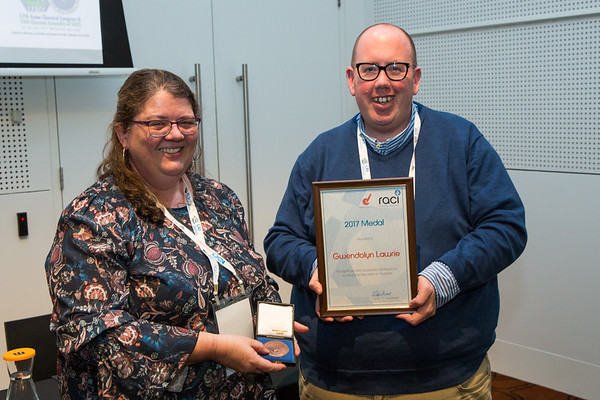 A distinguished University of Queensland chemistry educator has been awarded the Royal Australian Chemical Institute (RACI) Chemistry Education Division Medal.
Director of First Year Chemistry Associate Professor Gwen Lawrie (School of Chemistry and Molecular Biosciences) received the medal at the recent RACI Centenary Congress in Melbourne.
The selection panel members said they were "unanimous" in the decision to award the medal.
The panel's citation read: "In addition to being an excellent teacher, the panel felt you are one of the foremost discipline-based chemistry education researchers in Australia, demonstrated through awarding of grants, publication of outcomes, and dissemination and national and international conferences."
The panel also noted the "inclusive and collaborative approach to your work and how you generously share your expertise to have a significant impact on the teaching of chemistry in Australia."
"You serve as a role model for everyone in the community on balancing research with practice in learning and teaching of chemistry."
Associate Professor Lawrie also was recently admitted as a Senior Fellow of the Higher Education Academy, UK, providing professional recognition to evidence the quality of her teaching work.
Head of School Professor Paul Young said Dr Lawrie's latest accolade was richly deserved.
"Gwen's previous honours include recognition as the Director of First Year Chemistry team, which won a 2016 UQ Award for Programs that Enhance Learning.
"We are very fortunate to have someone of Gwen's dedication and skills in helping to create learning environments in which all students are valued and respected as individual learners."