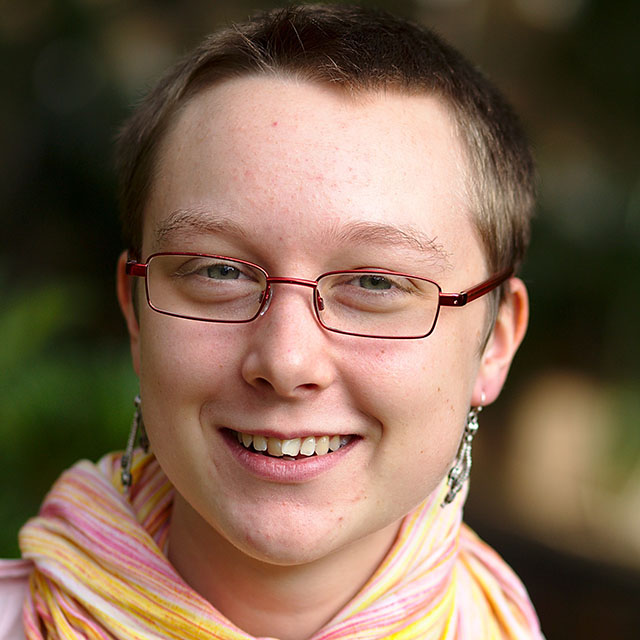 A Chapel Hill graduand who has wanted to be a scientist as long as she can remember, shared her vision to help humanity as the valedictorian at a University of Queensland Science Faculty graduation on July 21.
Bachelor of Science (Honours) graduand Miss Connie Ross, who aspires to a career in medical research as an immunologist, addressed the challenges facing the current world in her speech at the UQ Centre, St Lucia, at 11am.
"I am currently studying a protein called caspase-11, which is an important defence agent against bacterial infection," she said.
Caspase-11 is one of the inflammatory caspases, with roles both in defence against serious bacterial diseases and in chronic inflammation which in turn is key to many other diseases including cancer, arthritis, Crohn's disease and Alzheimer's disease.
Senior lecturer in Biophysics and Head of the Molecular Machines and Disease Laboratory in UQ's School of Chemistry and Molecular Biosciences  Dr Michael Landsberg said Miss Ross's research provided further insights into the caspase 11 proteins and its role in fighting bacterial infections.
"Throughout her undergraduate studies Miss Ross has consistently performed at the top of her cohort, receiving a number of awards from the School of Chemistry and Molecular Biosciences in recognition of academic excellence," Dr Landsberg said.
Dr Landsberg said Miss Ross had an overall grade point average of 7.0 (the maximum score), indicative of a sustained and consistent level of academic excellence throughout her undergraduate studies and was "a model high achieving student ".
"Outside of pure academic pursuits, Connie's extracurricular activities are also noteworthy," he said.
"She celebrated her 19th birthday on board the Young Endeavour in December 2014, having secured a place through the Young Endeavour Youth Development Scheme ballot, and has participated in the World's Greatest Shave, sacrificing her hair in support of the Leukemia Foundation and perhaps foreshadowing her current interests in medical research."
Miss Ross is a third generation scientist, with her father, Dr Ian Ross, a senior biologist working in the areas of photosynthesis and algal biology at UQ's Institute for Molecular Bioscience and her grandfather formerly a senior scientist in the CSIRO.
 "It's great to have someone in the family who can speak the same language I do," she said. 
Miss Ross has an older sister, Bridie, who graduated from UQ last year in Arts/Law, and a younger sister, Lily, still at high school.
Her advice for future students is to "follow your passions and keep your mind open."
"My passions lie in the field of discovery and I am definitely planning to do a PhD in the future, in the field of immunology," she said.
"You never know when something you have learned could be extremely useful."
Media: Connie Ross, s4322163@student.uq.edu.au, +61 0411 898 618 or Dr Michael Landsberg, m.landsberg@uq.edu.au, +61 7 336 53756.