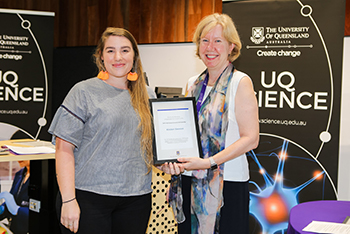 Three University of Queensland science students will now follow their passions for mathematics and physics, science communication and chemistry thanks to philanthropic gifts towards the UQ Future Scientist Scholarships. 
Each of the gifts towards the newly established scholarships were also matched by the Faculty of Science who hosted the inaugural event.
In announcing the inaugural recipients of the awards, Executive Dean of the Faculty of Science Professor Melissa Brown, thanked the 70 donors who supported the fund designed to assist financially challenged students and those following non-traditional university pathway.
"As someone whose career has been enabled by philanthropic scholarships, fellowships, and research grants, I am passionate about ensuring such opportunities are available for the next generation of science students." she said.
Professor Brown congratulated mature-aged student Kirsten Slemint, who has returned to university from a career in finance and administration to undertake a dual Bachelor of Science (Zoology) and Bachelor of Journalism.
Kirsten will follow her passion for science communication, which has already seen her write and produce 11 episodes of a science-based podcast. 
Fellow recipient Marko Uksanovic will pursue studies in mathematics and physics within the Bachelor of Advanced Science program, while Bachelor of Science (Honours) student Michelle Hunter will complete research in theoretical materials chemistry under the supervision of Professor Debra Bernhardt from the School of Chemistry and Molecular Biosciences and the Australian Institute of Biotechnology and Nanotechnology.
"Our exceptional recipients were chosen from 49 nominees from all walks of life including those experiencing financial and social challenges; taking non-traditional paths into higher education and also women identified with the potential to be the science leaders of the future.
Professor Brown said the philanthropic support would make a huge contribution to the three students' continuing success, and encouraged staff (PDF 590KB) and the community to support future rounds of the scholarships.