October 2018
Dear colleagues,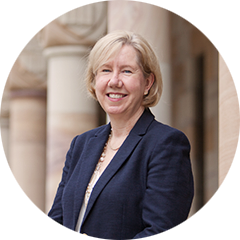 Congratulations to Associate Professor Jack Clegg, from the School of Chemistry and Molecular Biosciences, for being awarded the Malcolm McIntosh Prize for Physical Scientist of the Year as part of the Prime Minister's Science Prizes. The prize was awarded for Jack's work on making flexible crystals and new separation technologies, at a spectacular event in the Great Hall of Parliament Hall (images below).
Congratulations also to Dr Kirsty Short from the School of Chemistry and Molecular Biosciences, for winning the L'Oreal-UNESCO Women in Science 2018 Australian Fellow award for her work on the link between influenza and obesity.
Last week the Faculty hosted a forum for the almost one hundred first-year students who have engaged with the new Leadership and Mentoring Program in Science (LaMPS) and was entitled 'Contextualising Science' with a Q&A style discussion on the importance of fundamental science training for a multitude of career pathways. The event was facilitated by David Martin from AusIndustry Connections, with panel members including Joe Grotowski (SMP), Nigel Perkins (SVS), Neal Menzies (SAFS), Kaye Basford (SAFS and SBMS), Elizabeth Krenske (SCMB) and Lesley Lluka (SBMS) (images below). Congratulations to Melissa Fitzgerald for leading the establishment and development of this program as part of her role as Acting Deputy Associate Dean Academic.
As we approach the end of the year, it is the time for planning teaching, research and service activities for next year. In teaching, we encourage research-focused staff who are interested and able to contribute to UQ's teaching program to discuss opportunities with their supervisor and Head of School. Some opportunities that may be available are captured in this summary.
In research, it is time to start planning for future grant applications. I especially encourage staff who have commenced an application for linkage funding (we have several drafts in the ARC RMS) to please seek our assistance to submit these before the end of this year. I also encourage Schools to run grant planning and feedback events and readership schemes. Faculty support grant programs will be announced shortly.
In service, please consider opportunities for contributing to the governance and collegial life of the University through membership of School committees. Again, I encourage you to discuss the possibilities with your supervisor and / or Head of School.
Now is also a time to plan leave for the Christmas / January period. It has been a busy year for all of us and important to take the opportunity to take a break and refresh before 2019 starts.
In other news, I have had the privilege of participating in a number of excellent activities this month including the Georgina Sweet Awards in Melbourne, the Go8 Deans of Science annual meeting in Canberra, hosting a visit from our new DVCR Bronwyn Harch to UQ's Gatton campus and attending the School of Earth and Environmental Sciences Industry Breakfast. It has also been a busy time finalising budgets, appointments and promotions for 2019. Thank you to all of the wonderful professional and academic staff who have contributed to these processes.
Kind regards,
Professor Melissa Brown
Executive Dean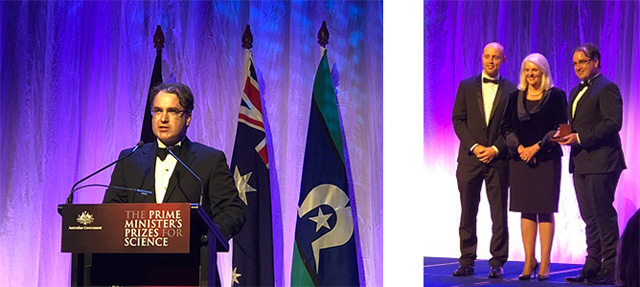 Associate Professor Jack Clegg receiving the 2018 Malcolm McIntosh Prize for Physical Scientist of the Year.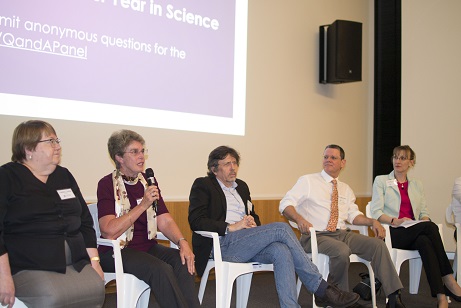 (L-R) Lesley Lluka (SBMS), Kaye Basford (SAFS and SBMS), Joe Grotowski (SMP), Neal Menzies (SAFS) and Elizabeth Krenske (SCMB) at the Contextualising Science forum.