May 2019
Dear colleagues,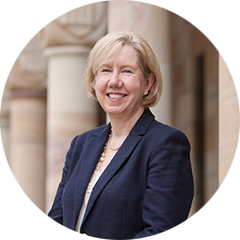 As we approach the end of Semester 1, I would like to sincerely thank the well-over-a-thousand staff, including our wonderful tutors, who have contributed to our amazing teaching programs. Both students and staff have provided very positive feedback on their experience this semester, particularly relating to new blended learning initiatives in many of our large first-year courses, including in chemistry, biology, and mathematics. I was also delighted to hear early indications that these initiatives are associated with enhanced student learning in these courses. A special thank you to those staff who I know have gone above and beyond to deliver these important innovations in teaching!
Congratulations to Mary Garson (School of Chemistry and Molecular Biosciences) who was recognised by the Governor of Queensland for her distinguished service on 8 May (you can see a photo of the event below). Congratulations also to Professor Debra Berhardt (School of Chemistry and Molecular Biosciences and AIBN) who has been elected as a Fellow of the Australian Academy of Sciences. I was also delighted to learn that a School of Earth and Environmental Sciences Indonesian field course has won a prestigious international award.
It was wonderful to see UQ's Reconciliation artwork unveiled at our three campuses last week. The Quandamooka artists have done a beautiful job capturing UQ, our commitment to reconciliation and our Indigenous history and connection to country. We were also delighted to see our partnership with the Quandamooka Yoolooburrabee Aboriginal Corporation (QYAC) progressing, with the release of draft plans for a Whale Interpretive Centre on North Stradbroke Island (Minjerribah). Take a moment to watch this short video, featuring an artist's impression of the completed facility. Thanks to Mike Noad, Rebecca Dunlop (School of Veterinary Science) and colleagues for their input into these plans.
The most recent UQ Global Leadership Series event entitled 'The Mighty Microbiome' was held on 9 May to a packed audience in the Long Room at Customs House (image below). Phil Hugenholtz (School of Chemistry and Molecular Biosciences), Mark Turner (School of Agriculture and Food Science), Marloes Dekker (School of Chemistry and Molecular Biosciences), and Mark Morrison (UQ Diamantina Institute) did a fantastic job on conveying the importance of this topic to the general public.
Ten Faculty of Science students will be participating in the UQ Idea Hub start-up trip to Shanghai during the mid-year break. What a wonderful opportunity! Thanks in particular to Nimrod Klayman (IdeaHub) and Susan Rowland (Faculty of Science) for their leadership in this partnership.
I am delighted to report that we now have Academic Directors at each of our Marine Research Stations. Congratulations to Mike Noad (School of Veterinary Science) who has been appointed as Academic Director of the Moreton Bay Research Station and to Selina Ward (School of Biological Sciences) who has been appointed as Academic Director of the Heron Island Research Station.
Other highlights this month include the opportunity to meet with members of both the Australian Council of Deans of Science and the Group of Eight Deans of Science, to discuss what we can achieve together and the challenges and opportunities in university science teaching and research. I have also had the privilege of reviewing draft applications from staff planning to apply for promotion to professor this year and, as always, have been inspired by the amazing people that work in the Faculty of Science!
Our Science Precinct working groups and reference groups are continuing to make excellent progress on a user brief to support a case for a new Science Precinct. Lengthy discussions and visits to some outstanding university science buildings interstate are driving some fantastic innovations in optimising the use of teaching, research and engagement spaces, to support outstanding academic and partnership activities and outcomes in the future.
Kind regards,
Professor Melissa Brown
Executive Dean